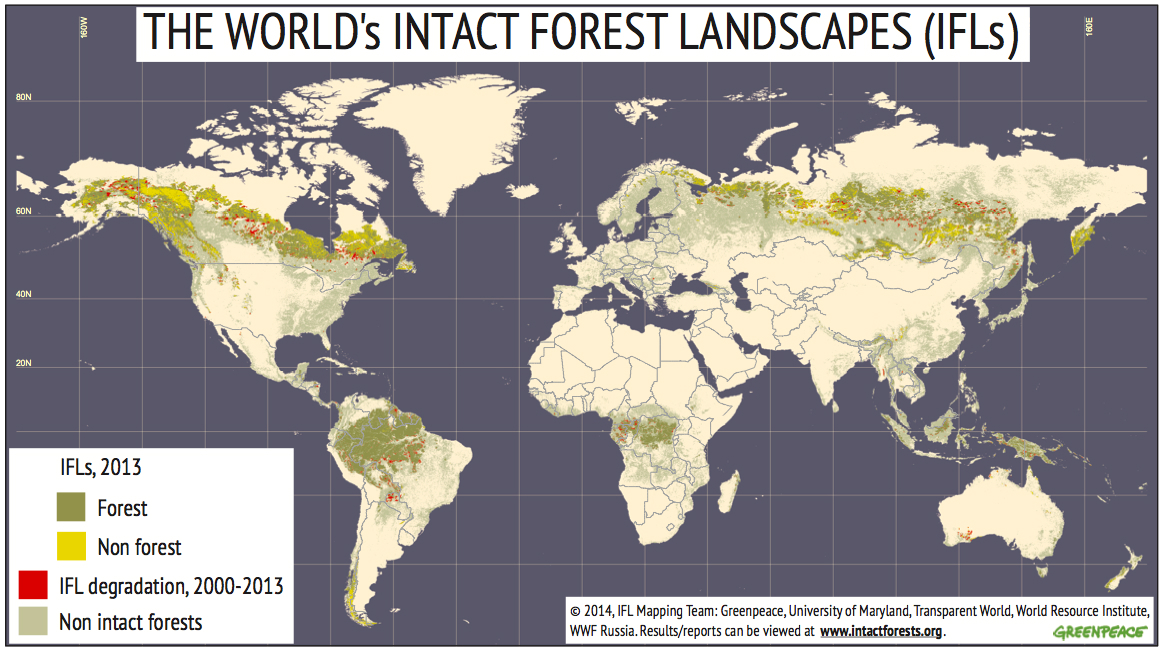 After many months of hard graft on mapping and many more hours for further calculations, and laying out the data in tables and charts, we can now, for the first time, say loud and clear that our largest forest wildernesses are suffering shocking degradation.
These forest wildernesses, which are usually in remote areas and don't have any infrastructure, are being destroyed at the rate of 20,000 hectares per day. Despite being largely off-limit for development. Roadbuilding, agricultural plantations and logging are cutting these intact forest landscapes (IFLs) into smaller patches leaving them vulnerable to other impacts.
We have created this infographic to explain what this means for the intact forest landscapes.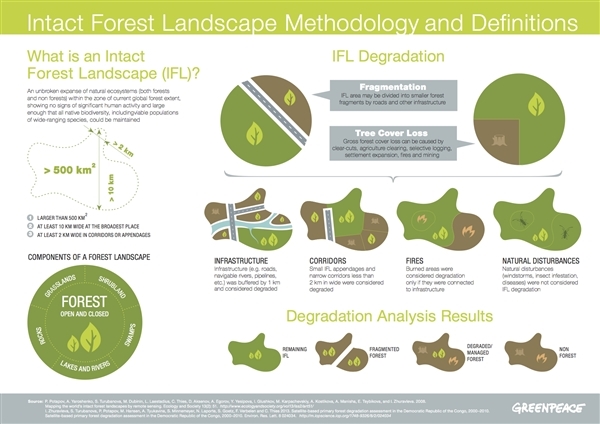 This huge mapping project actually started in the 1990s, when Greenpeace Russia proposed identifying and mapping the location and health of the world's last remaining large intact forests. The idea to publish a global Intact Forest Landscapes (IFLs) map for the year 2000 was supported by the World Resources Institute (WRI), other NGOs and institutions.
Last year we decided to check what was going on with these valuable areas and this most recent updated analysis was conducted by the IFL mapping group, including Greenpeace's GIS Laboratory, based in Moscow, University of Maryland and Transparent World, with support from WRI and WWF Russia.
We found that 8% of these wilderness areas had been degraded since 2000, with the highest rate of degradation being recorded in the subtropical region – South Asia Pacific.
Most of the degradation of intact forest landscapes is caused by fragmentation from roadbuilding, logging  and clearing, meaning that we WILL lose these incredible landscapes and the forests that they contain if no action is taken to protect them.
IFLs remain in only 64 countries, and in 9 of these forest wildernesses cover more than 1/3 of their land area. The countries with the largest areas of IFLs, and as a result the largest degraded area, are Canada, Russia and Brazil. We were surprised to find that some other countries, including Paraguay, Australia, Bolivia, also have high percentages of IFL degradation.
To find your nearest IFL please go to: http://intactforests.org/world.webmap.html
Unfortunately, these unique areas are still not strongly protected. Only 2% of IFLs are in Strict Nature Reserves (IUCN category 1a) and properly protected. We are destroying our last remaining forest wildernesses for things like tissue paper, wood products and crops. Destroying these areas means that they are gone forever, they will not grow back.
I want IFL's excluded from logging, clearing and roadbuilding and properly protected. I'd like to be able to say to my daughter that we have saved our last forest wildernesses for her and other children.
Author Ilona Zhuravleva